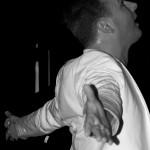 Magnus Carlsson performed on Friday the 21th October on Cinderella.
It was nice to hear some Barbados, Alcazar hits and see Magnus dance again.
The audience went crazy when Magnus performed his hit: Come Home/"Kom hem".
Magnus Carlsson gave us a good show and it was nice trip. I am waiting for a choreographed show with his new songs. Magnus is a good dancer.
Previous articles
Magnus tribute to Michael Jackson
Come Home
Read more about what happened to Magnus on Cinderella: