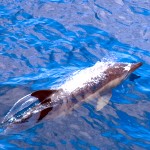 2012 is here. 2011 was an interesting year. In the beginning of June I visited the Azores, a group of islands situated in the North Atlantic Ocean. One of the most memorable moments was when I went on a safari with the goals to see whales. A fast catamaran took me far out in the Atlantic Ocean. Dolphins are the most wonderful and friendly creatures. They are as interested of people as we are of them. Whales are more afraid and keep a distance.
On the Azores there are more cows than people. The climate is humid and on every fogy mountain there is a cow. Previous one of the main industries where whale hunting, but a change toward ecotourism. The Azores are one of the most beautiful places in the world.
If you want an experience you never will forget visit the Azores.
Have you meet whales and dolphins please make a comment.