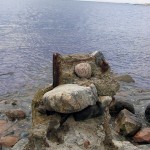 Yoga has been around for many thousand years. Yoga has been in my life since last year.
I have learned how to breathe. I thought that this was something that only can be done in one way, but has now learned differently. If you only breathe right you can get do movements you did not think was possible. Yoga helps people get physical, mental strength and makes people get balance in their life. With yoga you can train muscles that you did not think existed.
Some say that yoga makes you see more positive on life. A new year has come and there are many new possibilities to make a change. Good Luck!