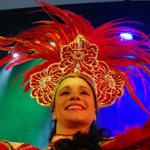 I spend Easter onboard Silja Galaxy on a Caribbean cruise. Among the three shows the Havanna by night was the most impressive. The show had fantastic costumes and rhythmic dance. Flamenco was the exception from the Caribbean theme. La Muta Del Cuba played salsa music. There were a lot of families onboard the ship that wanted to meet "Mumin" and his friends.
Let's Dance had a strange result this evening. Helena Paparizou was among the five best, so she should have stayed. My top three so far: Anton Hysén, Camilla Läckberg and Marcus Schenkenberg.
I hope that everybody had a fine Easter.