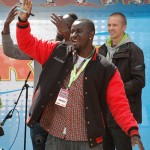 Panetoz encouraged the audience at Rix FM festival to dance, but also to take a break. Do not understand the last part. 🙂
The group also signed autographs. The group was founded in 1997 by Pa Modou, Nebeyu och Tobias.
They have a contract with Warner Music and have a bright future.