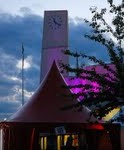 With a little help of light the tourist bureau in Borlänge turns into the castle of Cinderella.
Borlänge is usually a rather grey, but when Peace & Love comes to town it turns into something magical. I think that Peace & Love maybe had a little help from one of BoomTown's educations: Creative Lighting Design for Stage and Event.
Correct me if I am wrong.