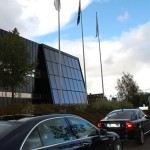 Today we got an important and very welcome visit from King Carl XVI Gustaf. The King was a guest at the Solar Energy Research Center in Borlänge. This center is a part of Dalarna University. King Carl XVI Gustaf's work for the environment is important. It was a lot of students waiting in the rain. On young student said:
– I do not care if there is a hurricane. I still wait.
The king was kind to smile into my camera.