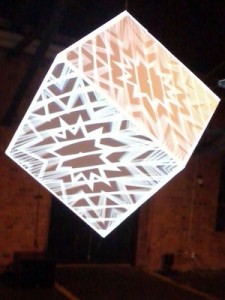 Dalarna University arranged two extra special Audiovisual Days: making music videos, live looping, audiovisual installations and VJ. The first lecturer out was Ras Kjearbo from Ableton Education Berlin. Ableton is a program for making music: for composition, songwriting, recording, production, beatmaking, remixing and live performance.
Mats Udd held a lecture about what it is like to work as a music video director. He is Known for making for example Carl Norén – Going Out Tonight.
Johan Söderberg is the music video editor of Madonna's videos Hung Up and Sorry. He also recognized for his work with documentary I'm Going to Tell You a Secret. Söderberg got a Grammis 2008 for best music video. Friday this week he was part of a panel discussion. Part of this discussions were also Andreas Tillander, Tomas Axelsson , Mats Udd and Hållbus Totte Mattsson.
The VJ Linnea "Morrsken" Forslund had a lecture and workshop about her area.
In the evening the group "Familjen"/Family played.