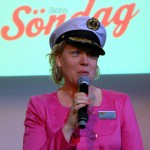 "Kryssning/Sköna söndag": Another unusual Sunday has passed. "Expressen"/ "Sköna Söndag" arranged a cruise with lectures, singing and makeovers. The lecturers were: Leif GW Persson, Robert Ashberg, Mia Törnblom, Caroline af Ugglas, Andreas Eeenfeldt, Camilla Thulin and Jean-Pierre Barda.
In the harbour the headline was: "EUPHORIA!". Loreen got her victory. Euphoria is a wonderful, magical and mystical song that has the possibility to win the whole Eurovion song Contest. Danny ended up in second place, but could had made it in the European final. The result in the third chance competition: Loreen – My Heart is Refusing me", Pain of Salvation – "Road Salt" and "Magnus Carlsson – Live Forever." Congratulation everybody! It helps to vote! 🙂
About 500 people had gathered to take part of an interesting Sunday onboard Silja Galaxy.
Caroline af Ugglas learned us how to avoid singing in a trembling voice. She says that it is easier if you keep your larynx down and move at the same time.
Mia Törnblom got the public to laugh and feel good about them selves. She encouraged people in the audience to give positive feedback to the neighbour sitting next to them.
Doctor Andreas Eeenfeldt talked about how people get fooled by eating low fat products and instead of loosing weight they gain weight.
Camilla Thulin and Jean-Pierre Barda styled ordinary people into high fashion.
Robert Ashberg and Leif GW Persson discussed the problems women have with men and the opposite. Leif GW Persson celebrated his birthday. Robert Ashberg and 500 cruise participants sang for the not so amused writer.
The writers signed their books and we all went home with a lot of new impressions.
On the picture: Kristina Pousette.