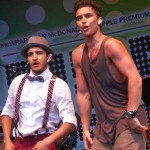 Falun was the first town this year to be visited by Rix Fm Festival. The artists tis year: Eric Saade, Amanda Fondell, Erik Hassle, Lisa Miskovsky, Panetoz, Tone Damli, Eric Saade and Broken Door.
Eric Saade was 2011 the best selling artist in Sweden. Eric competed 2011 in the Eurovision Contest and got the third place. Eric is good dancer and because of that he is difficult to catch in a photo.
Anton Hysén got his well deserved first place in Let's Dance.
Previous article: Eric Saade releases new album