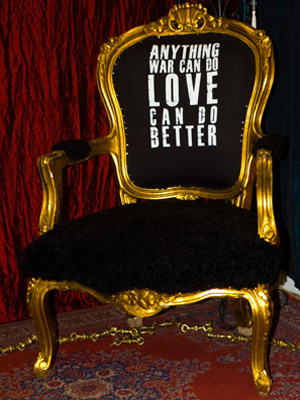 The summer in "Dalarna" is full of events:
"Musik vid Siljan"/Music at Lake Siljan 2013: This event begins with Charlotte Perrelli and ends with Mighty Voices!
Remember the 23-27 June. The now famous Peace & Love Festival takes place during this week. Darin is one of the artists. For the second time Peace & Love arranges a film festival. It is five days with international premieres, film competitions and workshops.
A unique meeting place for film lovers and film makers.
"Ludvika Festivalen" is a calmer festival and this year Robin Stjernberg is the main attraction.
For those who loves rock it is possible to visit "Rockstad Falun": 15-17 August.
Dalhalla performances this summer: Malena Ernman, Diggiloo and Sting.
Photo Anneli Fors: Chair Peace & Love