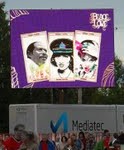 Rihanna Peace & Love
Robyn Rihanna Fenty, also known as Rhinna comes to Borlänge and Peace & Love tonight. This years music event on Peace & Love.
Rihanna has more than ten hits on Billboard. The artist had the part, Cora Raikes in the film Battleship with Alexander Skarsgård. See her music videos. Umbrella is my favorite.