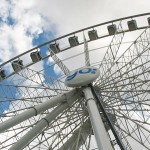 Wheel of Gothenburg is a breathtaking experience. You have view of 360 degree.
The 13th of May I tested Gothenburg's new attraction: Go 360 degree. I think that it was worth the money. It is the best place to see Gothenburg from above.
Go 360 degree – opening hours for the attraction: 15 apr – 30 sept 11.00 – 21.00.
Find more information about Go 360 degree:
www.goteborg.com/goteborgshjulet