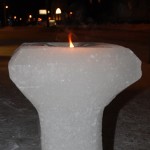 It is time to decide who Sweden will send to the Eurovision Song Contest. The first contest takes place in Växsjö. The artist in this competition: Sean Banan, Abalone Dots, The Moniker, Afro-Dite, Dead by April, Marie Serneholt, Torsten Flink and Loreen.
In the second competition in Gothenburg eight artist fight for a place in the Swedish final: Ulrik Munther, Top Cats, Sonja Alkden, Andreas Lundstedt, Timoteij, David Lindgren, Mimi Ob and Thomas Di Leva.
Leksand has got the honor to arrange the third competition. Here we will see the following artists: Youngblood, Maria BenHajji, Mattias Andréasson, Love Generation, Carolina Wallin Pérez, Andreas Johnson, Molly Sandén and Björn Ranelid.
In Malmö we will see the last competitors compete: Charlotte Perrelli, OPA!, Dynasty, Lotta Engberg, Christer Sjögren, Hanna Linblad, Axel Algmark, Lisa Miskovsky and Danny Saucedo.
 
My favourite in Växsjö was Loreen with the song: Euphoria.
Afro-Dite and Marie Serneholt were strong competitors.
The winners in Växsjö are Loreen & Dead by April.
Now it is possible to vote for songs that did not make it to the big final previous years:
I want to live forever. 🙂