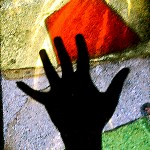 "Framtidmuseumet"/The Future Museum
Technology, Mechanically and Polhem/Borlänge: I decided to be a tourist in my own town. Polhem becomes 350 years and the Future Museum 25 years this year. Polhem is one of Sweden's most famous inventors. He helped the Falu Coppermine to get more efficiency. In the exhibition Technology, Mechanically and Polhem you can test technologys that has been around for 300 years. In "Kosmorama" you can look at the universe and get interesting information about space.
It is possible to test a flight simulator. I got into the air, but crashed and burned. I need flying lessons. 🙂
On the picture: My own shadow.