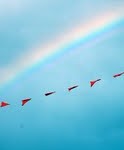 Peace & Love 2012 started today with thunder and lightning. In "Expressen" today I read that 17 persons have been taken to medical care.
I heard the thunder in my appartment. I was happy that I had turned my computer off. Earlier today I talked to two Peace & Love visitors, that was afraid to sleep tonight because the lightning had hit somewhere near there tent.
In Aftonbladet today: Peace & Love had last year 50 000 visitors. In 1999 it was only 900. Who many will it be this year?
People are waiting for Rihanna to arrive.
Links