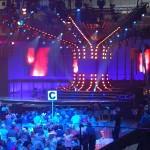 "Melodifestival 2012/Malmö/Cinderella": This time I watched the melody festival on a big screen in a crowded room full of interested people.
The artist that will make it directly to the final is Lisa Miskovsky and Danny Saucedo. Both melodies are good and have a chance to win in the final. Hanna Lindblad and Charlotte Perelli would have deserved a second chance. This years competitions have been unpredictable. I  think that Loreen has a song that and dance routine that is easy to remember. That is often what settles a competition.
Magnus Carlsson performed on Cinderella after the melody festival. He sang the song "Live for ever" that probably will win the first "third chance" competition. The public was enthusiastic.