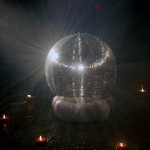 There are a lot of music events in Dalecarlia/""Dalarna" this summer:
Rix Fm Festival comes to Falun tomorrow: Eric Saade, Amanda Fondell, Erik Hassle, Lisa Miskovsky, Panetoz, Tone Damli, Eric Saade and Broken Door.
Dalhalla performances this summer: James Morrisson, Tom Jones, Malena Ernman, Norah Jones, Eldkvarn, Hammerfall, John Fogerty, Diggiloo and one opera performance.
Peace & Love arranges this year a film festival: 23-27 June. The music festival: Peace & Love's main attraction this year is Rihanna. Other artists are Roxette, Billy Idol and Laleh.
"Ludvika Festivalen" is a calmer festival: 28-30 June. Here you can see Young Blood and Kikki Danielssson.  "Efterfesten" in Ludvika10-11 August: The Eurovision Contest winner Loreen comes to this festival in August.
For those who loves rock it is possible to visit "Rockstad Falun": 16-18 August.
Photo Anneli Fors: BoomTown Light Show 2012.